Pranyva
PRIZTEEN OIL CONTROL FACE WASH
Intensive Anti Grease Action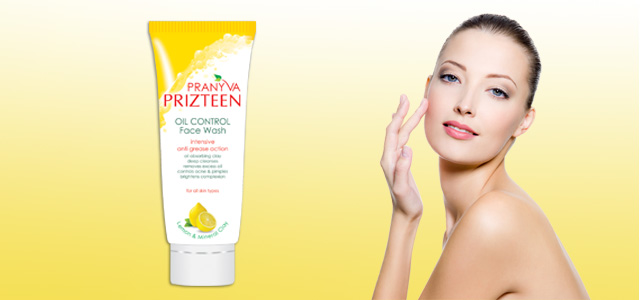 What it Does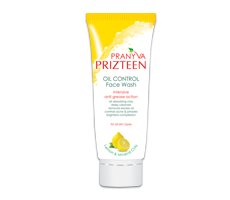 Click here to enlarge
Oil Absorbing Clay

Deep Cleanses

Removes Excess Oil

Controls Acne & Pimples

Brightens Complexion
Gentle herbal formulation deep cleanses the skin, removes excess oil, dirt & impurities and prevents formation of acne and pimples. Regulates production of sebum while removing excess oil from the skin. Effectively cleans your skin without disturbing the natural balance to give clear, refreshed look.
Mineral Clay
is known to instantly absorb oil from deep within the pores of the skin
Lemon
has an overall soothing and astringent effect. The citric acid present in Lemon lightens and softens your skin. It also helps fade freckles and age spots and eliminates blackheads. Lemon removes grime and dirt and leaves your skin feeling supple and smooth.
Directions for use: Moisten face and massage gently over face, avoiding the delicate eye area. Wash off and pat dry. For oily to normal skin
Key Ingredients
KAOLIN, EXTRACT OF CITRUS LIMON (LEMON
Pack Size:
We also recommend :
PRANYVA PRIZTEEN PURIFYING FACE WASH
PRANYVA PRIZTEEN INSTANT GLOW WHITENING FACE WASH
PRANYVA PRIZTEEN REFRESHING ANTI POLLUTION DETOXIFYING FACE WASH
PRANYVA PRIZTEEN ANTI ACNE CREAM
PRANYVA PRIZTEEN ANTI ACNE SOAP