Pranyva
PRIZTEEN ANTI ACNE SOAP
Wins over acne and pimples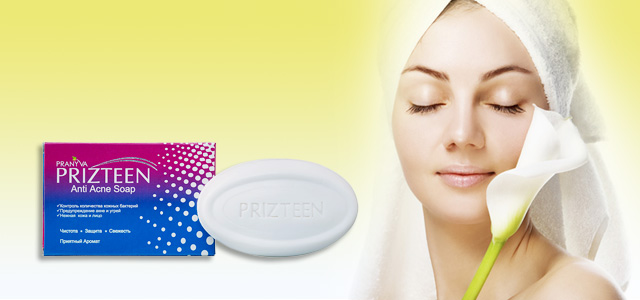 What it Does
Click here to enlarge
Controls skin bacteria

Prevents formation of acne & pimples

Softens skin and face

100% Natural
PRANYVA PRIZTEEN, a revolutionary new natural ANTI ACNE SOAP provides deep cleansing of pores, reduces the over activity of sebaceous glands and dries out excess sebum oil secretions. Active ingredients in PRIZTEEN ANTI ACNE SOAP have strong anti-bacterial and anti-microbial property, destroying the bacteria that causes acne and various types of rashes on the skin. Effectively protects the skin from dirt, germs and infections, keeping it fresh and healthy. Gentle soap with exquisite fragrance, adds softness and purity. Your skin looks refreshed, healthy, radiant and acne free, every day!
PRANYVA PRIZTEEN – PRISTINE BEAUTY ALWAYS !
Key Ingredients
Extract of Boswellia serrata, Commiphora mukul, Randia dumetorum, Terminalia arjuna, Citrus sinensis & Berberis aquifolium; Oil of Cedrus atlantica & Citrus limon; Camphor, Sodium Palmate, Sodium Palm Kernelate, Perfume, Titanium Dioxide, Glycerin, Tetrasodium EDTA.
Pack Size :  100 gms bar
We also recommend :
PRANYVA PRIZTEEN ANTI ACNE CREAM