Pranyva
PRIZTEEN INSTANT GLOW WHITENING FACE WASH
Clear, Fresh & Fair skin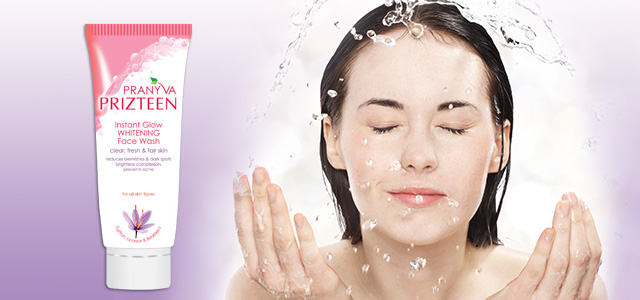 What it Does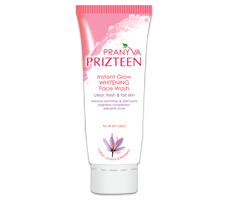 Click here to enlarge
Reduces blemishes & dark spots

Brightens complexion

Prevents acne
Daily use face wash that cleanses and clarifies your skin of dirt, oil & impurities that cause dullness, giving you a sparkling clear, radiant and even complexion. Brightens complexion making it instantly whiter & fairer. Removes dark spots, fights acne & keeps your skin beautiful. For best results, follow up with Prizteen Fair Fairness Cream.
Saffron
Well-known for its fairness & complexion enhancing properties helps clear skin of spots and blemishes.
Liquorice
Helps regulate melanin synthesis restoring skin's natural fairness.
Bearberry        
A good hypopigmenting component, has a whitening effect on the skin.
Directions for use: Moisten face and massage gently over face, avoiding the delicate eye area. Wash off and pat dry. For all skin types.
Key Ingredients
EXTRACT OF CROCUS SATIVUS (SAFFRON), EXTRACT OF GLYCYRRHIZA GLABRA (LIQUORICE), EXTRACT OF ARCTOSTAPHYLOS UVA-URSI (BEARBERRY), SODIUM ASCORBYL PHOSPHATE (VITAMIN C), NIACINAMIDE (VITAMIN B3), TOCOPHERYL ACETATE (VITAMIN E)
Pack Size: 50 ml
We also recommend :
PRANYVA PRIZTEEN FAIR ADVANCED MULTI VITAMIN FAIRNESS CREAM
PRANYVA PRIZTEEN FAIRNESS SOAP
PRANYVA PRIZTEEN FAIRNESS TALC
PRANYVA PRIZTEEN PURIFYING FACE WASH
PRANYVA PRIZTEEN REFRESHING ANTI POLLUTION DETOXIFYING FACE WASH
PRANYVA PRIZTEEN OIL CONTROL FACE WASH