Pranyva
BOROPRIME SKIN CARE SOAP
Enriched with four prime oils
What it Does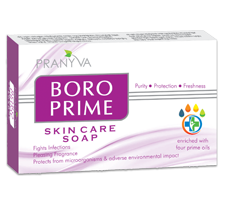 Click here to enlarge
Fights Infections

Pleasing Fragrance

Protects from microorganisms & adverse environmental impact
Unique soap enriched with 4 prime oils with cleansing and antibacterial properties gives your skin softness and purity. 4 prime oils, known for their amazing properties, perfectly protect and take care of your skin. The combination of cleaning components with antibacterial properties of BOROPRIME soap effectively removes surface bacteria, sweat & oils and fights infections caused by the external environment keeping it clean, fresh and healthy. Gentle soap with exquisite fragrance. Cost effective and convenient use.
Directions : Lather bar in water, wash skin and rinse completely.
Key Ingredients
Oil of Melaleuca Alternifolia (TEA TREE), Chamomilla Recutita (CHAMOMILE), Triticum vulgaris (WHEAT GERM) & Daucus carota (CARROT SEED).
Pack Size :  100 gms bar
We also recommend :
PRANYVA BOROPRIME PRICKLY HEAT TALC
PRANYVA PRIZTEEN PURIFYING FACE WASH