Pranyva
BOROPRIME ANTISEPTIC SKIN CARE CREAM
Enriched with Four Prime Oils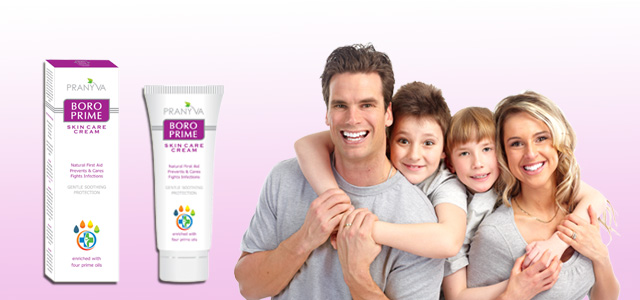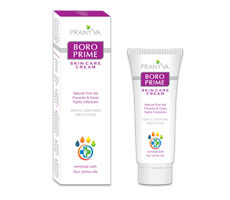 Click here to enlarge
A unique preventive, protective & caring multifunctional herbal cream with the powers of 4 amazing oils. Amazingly effective cream which protects from numerous skin problems giving you a healthy and beautiful skin. Perfectly moisturises, nourishes and rejuvenates, makes your skin soft and supple. Your daily use first preference cream. Healthy & beautiful skin with PRANYVA BOROPRIME.
MULTI FUNCTION APPLICATIONS
Softens Chapped Skin & Lips

Moisturises Dry Skin

After Shave Cream

Fights Infections

Heals Cracked Heel
Tea Tree Oil
The most powerful natural antiseptic and antibacterial agent known to man. This cure all versatile oil can be summed up as: skin issues + tea tree oil = healing !
Chamomile Oil
Miracle herb chamomile is one of the best skincare herbs available with antibacterial, anti-fungal, anti-inflammatory and skin healing properties. Used in care of skin rashes, skin inflammation and sun burn. Effective against skin abrasions, minor cuts and scratches.
Wheat Germ Oil
A rich source of Vitamin E which helps reduce skin damage, fight free radicals, support healthy collagen formation and maintain even skin tone.
Carrot Seed Oil
Enriched with the power of Beta-carotene (Provitamin A) and Tocopherol (Vitamin E), has antioxidant, skin soothing, sun protection, cell regenerative and moisturizing properties."
Directions for use :Apply liberally over the appropriate area twice a day, and rub gently till it is absorbed.
Key Ingredients:
Zinc oxide, Boric acid, Oil of Melaleuca Alternifolia (TEA TREE), Chamomilla Recutita (CHAMOMILE), Triticum vulgaris (WHEAT GERM) & Daucus carota (CARROT SEED).
Pack Size :  25 gm, 50gm
We also recommend:
PRANYVA BOROPRIME SKIN CARE SOAP
PRANYVA BOROPRIME PRICKLY HEAT TALC
PRANYVA BOROPRIME COOL TALC
PRANYVA PRIZTEEN PURIFYING FACE WASH