Pranyva
PRIZTEEN FAIR ADVANCED MULTI VITAMIN FAIRNESS CREAM
TRIPLE ACTION COMPLEX for instant whitening & long lasting fairness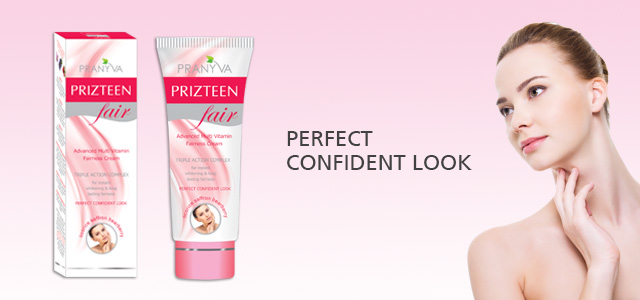 What it Does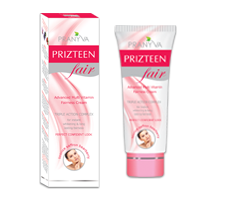 Click here to enlarge
Unique fairness complex enriched with the power of extra ordinary herbs and multi vitamins for a luminous and flawless radiant skin. Whitens skin from within and gives the skin a long lasting fairness. Protects from harmful UVA/UVB rays and tanning. Rich in antioxidants, promotes fairness and helps reduce the appearance of melanin and uneven pigmentation. Lightens skin tone and corrects dark spots, offering instant fairness to skin. Reduces fine lines and wrinkles. Improves skin texture by getting rid of freckles and blemishes to give glowing fairness. PRISTINE BEAUTY with PRANYVA PRIZTEEN.
TRIPLE ACTION COMPLEX
PROVIDES
Instant Whitening
Long Lasting Fairness
Luminous Glow
Even Skin Tone

PROTECTS
Sun Protection
Dirt & Pollution





REDUCES
Dark Spots
Skin Darkening
Sun Tanning



UNIQUE BLEND OF SAFFRON, LIQUORICE, BEARBERRY & MULTI VITAMINS
Saffron                        
Well-known for its fairness & complexion enhancing properties helps clear skin of spots and blemishes.
Liquorice
A natural sunscreen & shield from UVA / UVB rays, blocks melanin production, brightens dull complexion. Exhibits anti acne and anti bacterial properties.
Bearberry        
Skin lightening natural alpha arbutin inhibits melanin formation & dark spots restoring skin's natural fairness.
Vitamin B3 (Niacinamide)
Excellent skin lightening agent that works from within to lighten skin and dark spots. Nourishes your skin, improves skin structure & suppleness, reduces hyper pigmentation.
Vitamin C (Ascorbic Acid)
Powerful antioxidant, protects skin from UVA/UVB rays, stimulates collagen production.
Vitamin E (Tocopherols)
Antioxidant combating free-radical damage. Excellent moisturising properties.
Directions for use: Apply cream twice a day on thoroughly cleansed face and neck and gently massage using upward circular movements. For optimum effect use PRANYVA PRIZTEEN INSTANT GLOW WHITENING FACE WASH before application. With each use, feel your skin visibly fairer and brighter. FOR ALL SKIN TYPES
Key Ingredients
Extract of Crocus Sativus (Saffron), Extract of Glycyrrhiza Glabra (Liquorice),  Extract of Arctostaphylos Uva-Ursi (Bearberry), Sodium Ascorbyl Phosphate (Vitamin C), Niacinamide (Vitamin B3), Tocopheryl Acetate (vitamin  E),
Pack Size :  25 gm, 50 gm
We also recommend :
PRANYVA PRIZTEEN INSTANT GLOW WHITENING FACE WASH
PRANYVA PRIZTEEN FAIRNESS SOAP
PRANYVA PRIZTEEN FAIRNESS TALC