Pranyva
PRIZTEEN FAIR FAIRNESS SOAP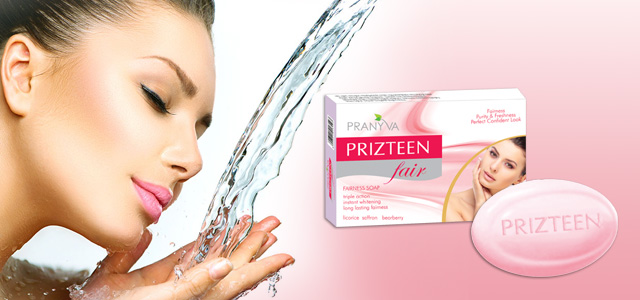 What it Does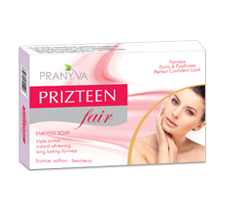 Click here to enlarge
Triple Action

Instant Whitening

Long Lasting Fairness
Specially formulated gentle foaming soap with skin lightening complex & Vitamin E enriched with the marvels of saffron, liquorice & bearberry. Deep cleanses, brightens and lightens face, hand and body. Controls melanin production within the skin and increases your skin's glow and fairness. Protects your skin from harmful UV rays. Controls dark spots, fades away pigmentation, marks and blemishes giving an even skin tone. Irresistible fragrance to keep you fresh the whole day. Pristine beauty with Pranyva PRIZTEEN.

Saffron
Well-known for its fairness & complexion enhancing properties helps clear skin of spots and blemishes.
Liquorice
Helps regulate melanin synthesis restoring skin's natural fairness.
Bearberry        
A good hypopigmenting component, has a whitening effect on the skin.
Directions for use: Lather bar in water, wash skin and rinse completely.
Key Ingredients
EXTRACT OF CROCUS SATIVUS (SAFFRON), EXTRACT OF GLYCYRRHIZA GLABRA (LIQUORICE), & EXTRACT OF ARCTOSTAPHYLOS UVA-URSI (BEARBERRY)
Pack Size: 100 gm
We also recommend :
PRANYVA PRIZTEEN FAIR ADVANCED MULTI VITAMIN FAIRNESS CREAM
PRANYVA PRIZTEEN INSTANT GLOW WHITENING FACE WASH
PRANYVA PRIZTEEN FAIRNESS TALC