Pranyva
KURLZ HERBAL HENNA
Made from selected finest Indian Henna
100% Natural Ingredients
What it Does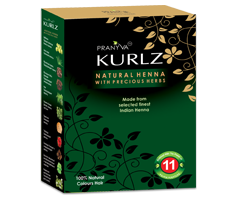 Click here to enlarge
PRANYVA KURLZ natural Indian henna enriched with one of the best combinations of rare and valuable Himalayan herbs.
One of the best known natural cleansers, tonic and hair conditioner.

Adds volume, shine, strength and health to your hair.

Strengthens hair and prevents hair breakage.

Stimulates hair growth. Prevents hair loss.

Makes your hair silky and smooth.

Eliminates dandruff. Soothes the scalp. Prevents premature graying.

Natural dye for hair without harmful effects of chemical dyes.
Natural henna is a gift of nature. The ancient formula in Ayurveda, which women in India have been using for ages to strengthen the brilliance and power of their hair. Henna PRANYVA KURLZ - lovely hair always.
ENRICHED WITH POWER OF 11 HERBS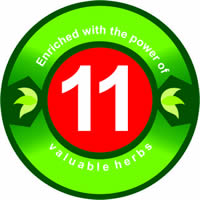 Amla - Shine & Lustre

Aloe Vera - Moisturises Hair

Jatamansi - Prevents Graying

Shikakai - Prevents Split

Neem - Prevents Dandruff

Bhringaraj - Luxuriant Hair

Methi - Revitalizes Hair

Hibiscus - Rejuvenates Hair

Reetha - Voluminizes Hair

Tulsi - Anti fungal & anti bacterial

Brahmi - Aids Hair Growth
Key Ingredients
Lawasonia inermis, Emblica officinalis, Aloe barbadensis, Narodstachys jatamansi, Acacia concinna, Azadirachta indica, Eclipta alba, Trigonella foenum graecum, Hibiscus rosasinensis, Sapindus mukorossi, Ocimum Basilicum, Bacopa monnieri
Pack Size :  125gms
We also recommend : PRANYVA KURLZ ADVANCED HAIR VITALIZER