Pranyva
HAND SANITIZER gel
Virus-free Hands in a Pinch
BUY NOW !
What it Does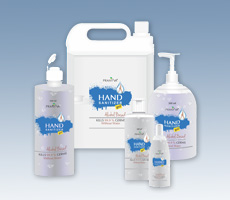 Click here to enlarge
Kills 99.9% Germs

Contains 72.34% Ethyl Alcohol + 3% IPA

Protects against Corona Virus (Covid-19)

Instant Protection

Rinse-free & Non-sticky

Enriched with Neem, Calendula & Aloe Vera
Bacteria and Virus are everywhere! PROTECT yourselves. Every time you touch anything outside your house, you expose yourselves to the Corona virus. Sanitize your hands immediately after every touch with PRANYVA HAND SANITIZER, an Alcohol based powerful formula enriched with antibacterial properties of neem & calendula and moisturising properties of aloe vera. Protects against germs instantly. CDC (Centre for Disease Control and Prevention, USA), WHO & Ministry of Health recommends consumers use an alcohol – based hand sanitizer that contains at least 60% alcohol. Always carry PRANYVA Hand Sanitizer Gel with you.
On The Go Protection - Use Before and After
Directions : Pour a small amount of gel on your palm and rub briskly until dry. No water required.
Warning : Highly flammable. Keep away from heat & fire. Avoid eye contact. In case of contact with eye rinse thoroughly with water. Consult doctor if irritation persists or product is swallowed. Keep away from children.
Storage : Keep in a cool & dry place
Key Ingredients
Ethyl Alcohol, Isopropyl Alcohol, Aloe Barbandensis (Aloe Vera Extract), Azadirachta Indica (Neem Leaf Extract), Calendula Offinicalis (Calendula Extract).
Pack Size : 100 ml, 200 ml, 300 ml, 500 ml & 5 Litres
BUY NOW !