DETAILS
Triticum vulgare
English: Wheat Germ
Sanskrit/Indian: Gehun
Russian: Зародыши пшеницы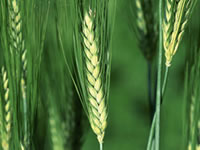 Constituents:
The major chemical constituents of wheat germ oil include: Linoleic acid (Omega 6), Oleic acid, Palmitic acid, Linolenic acid (Omega 3), Stearic acid, Palmitoleic acid, Arachidic acid, Gadoleic acid, Behenic acid.
Benefits:
Wheat Germ Oil is used to help relieve the symptoms of dermatitis and its nourishing properties are most useful in dry sensitive skin.
Wheat Germ Oil is a rich source of vitamin E that smoothes the skin and serves as an antioxidant.
Wheat Germ Oil is rich in Vitamin E, used for its antioxidant effects on free radicals in the skin.
Wheat Germ Oil is a natural preservative.
Wheat Germ Oil is very high in Vitamin E and also contains Vitamin A and D.
Wheat Germ Oil supports the skins natural process of regeneration; aids muscle and lymph function and is particularly valuable for treating dry, ageing skin.
Wheat Germ Oil is good for stretch marks and scar tissue, and for dry rough skin.
Wheat Germ Oil leaves the skin very smooth while nourishing and helping heal the skin.
Wheat Germ Oil moisturizes and softens.
Wheat Germ Oil contains carotene and vegetable lecithin which nourish skin cells and prevent moisture loss.
Wheat Germ Oil is an antioxidant, which discourages spoilage within the bar of soap, and softens skin.