DETAILS
Terminalia arjuna
English: Arjuna
Sanskrit/Indian: Arjuna
Russian: Арджуна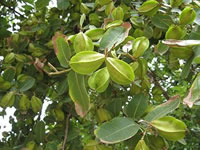 General information:
Arjuna extracts have been widely used in Ayurvedic medicine. The bark of the tree has been used for several centuries for treating cardiovascular ailments. It has a host of other therapeutic benefits including treating asthma, hypertension and kidney stones.
In the Health Sciences Institute newsletter, a network of medical experts wrote about Arjuna, 'Once in a blue moon, we uncover a supplement that does so many things well; it is hard even for us to believe it is real.' The article goes on to state that many clinical studies have been conducted on Arjuna and have confirmed its numerous therapeutic cardiac benefits.
Arjuna, a deciduous tree native to India, can grow up to a height of 27 meters. The tree is also found in Myanmar and Sri Lanka.
Constituents:
Casuarinin, a hydrolyzable tannin isolated from the bark, exhibits antiherpes virus activity by inhibiting viral attachment and penetration. The ethanolic extracts have properties that help heal wounds. The Arjuna herb also has mild diuretic, blood thinning, prostaglandin E(2) enhancing and blood lipid lowering properties. It dilates blood vessels, even in cigarette smokers.

Benefits:
Symptomatic complaints of hypertension such as dizziness, insomnia, lassitude, occipital headache and poor concentration ability can be relieved by Arjuna.
Arjuna flushes out small stones inside the kidneys. The stones break into pieces and are removed completely through administered dosages of the herb.
The herb raises coronary artery flow and protects cardiac tissue against ischemic damage.
It alleviates symptoms of asthma and helps patients breathe more easily.